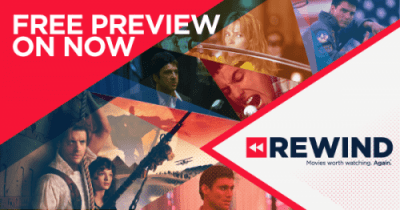 FREE PREVIEW! Rewind and Silver Screen Classics!
On now until January 15, 2021!

The days are getting shorter and the nights are getting longer… that means more time to enjoy your favourite movies on free preview!

Whether it's comedy, action or drama, Rewind has all your favourite throwback movies and tune into Silver Screen Classics packed with all the classics to keep you entertained.

Rewind – channel 332
Silver Screen Classics – channel 324
Reconnect. Rediscover. Relive. Rewind.
Rewind is a Canadian television channel giving a curated throwback movie experience.
Relive the moment you first saw flying DeLoreans, bullet-time blockbusters, Scottish junkies, and charismatic cannibals. Rediscover the characters, quotes, and plot twists that defined pop culture today.
Reconnect with some of your favourite films, or discover a film that you've never seen before. Reward yourself with our lineup of hundreds of movies, watch them uncensored, and in HD.
Check out the full schedule on REWIND.
Faces you remember. Films you can't forget.
Silver Screen Classics is the only Canadian television station specializing in classic films, serving up legendary movie stars like: John Wayne, Elizabeth Taylor, Fred Astaire, Marilyn Monroe, Ginger Rogers, Charlie Chaplin, Sophia Loren, Kirk Douglas, Spencer Tracy, Marlon Brando, and many others.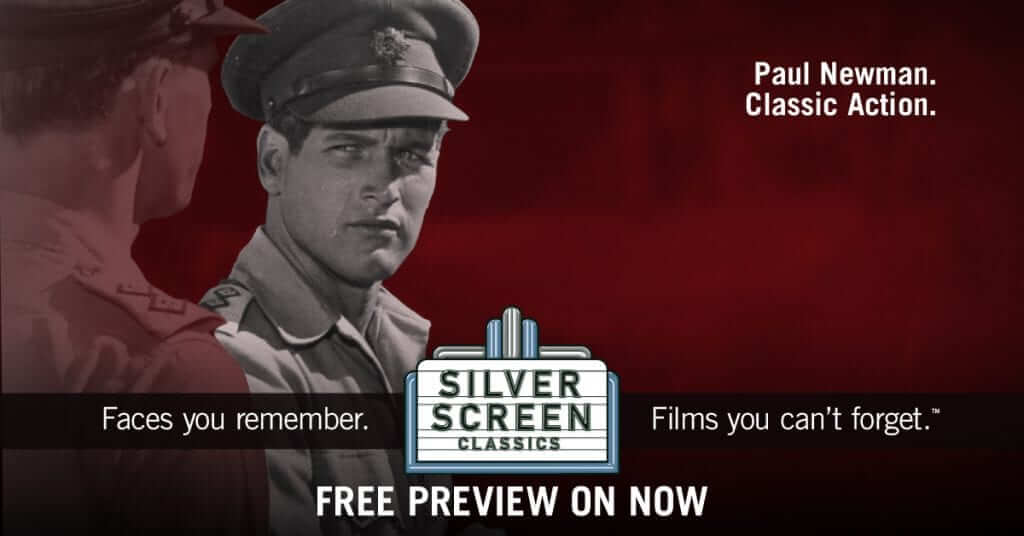 Under the spotlight December 2020 on Silver Screen Classics
This western style spaghetti truly stands the test of time just like the musical score of the late Ennio Morricone. Clint Eastwood stars in The Good the Bad and the Ugly on Dec. 4 2:00 pm EST
100 British soldiers against 4000 Zulu warriors. Get ready for action and tension that move into high gear in this war movie based on a true story Watch Zulu on Dec. 5 6:00 PM EST
This movie proves that a great Broadway show can become a great movie. Find out for yourself! How to Succeed in Business on Dec. 6 3:00 pm EST
In these uncertain times, this film will bring you a feast for the eyes, the ears and, ultimately the heart! It is well-worth sitting in for West Side Story on Dec. 11 9:30 PM EST
An acting tour de force based on a real-life case set in 1925. Two great lawyers argue for and against a science teacher accused of the crime, teaching evolution. Don't miss Inherit the Wind on Dec. 12 3:00 PM EST
It's funny and entertaining after all these years. David Niven is the bankable star but inspector Clouseau steals the show. Peter Sellers shines as brilliantly as The Pink Panther on Dec. 12 6:00 pm EST
Another fantastic Wayne & Ford classic based on a true incident during the civil war. Laughter, romance and thrill await you in The Horse Soldiers on Dec. 19 6:00 PM EST
A rare collective of phenomenal actors step in the shoes of seven gunfighters hired by Mexican peasants to liberate their village from oppressive bandits. Don't miss The Magnificent Seven on Dec. 20 3:00 pm EST
What would Christmas be without the most enjoyable version of the Dickens Classics. See Seymour Hicks in his famous impersonation of Scrooge in A Christmas Carol on Dec. 25 8:00 PM EST
Quite daring for its time, the movie brings the topic of incest and other juicy themes. Capture Lara Turner in one of her most understated roles as she welcome you to Peyton Place on Dec. 26 6:00 PM EST
You will enjoy real a aircraft in combat in this terrific WWI Air War Movie, where a young pilot in the German air force ambitiously tries to earn the medal offered for 20 kills. Fly with The Blue Max on Dec. 27 3:00 PM EST.
Contact us to add these channels to your Rally TV or see our complete channel lineup.
Rally TV. Your entertainment, your way.