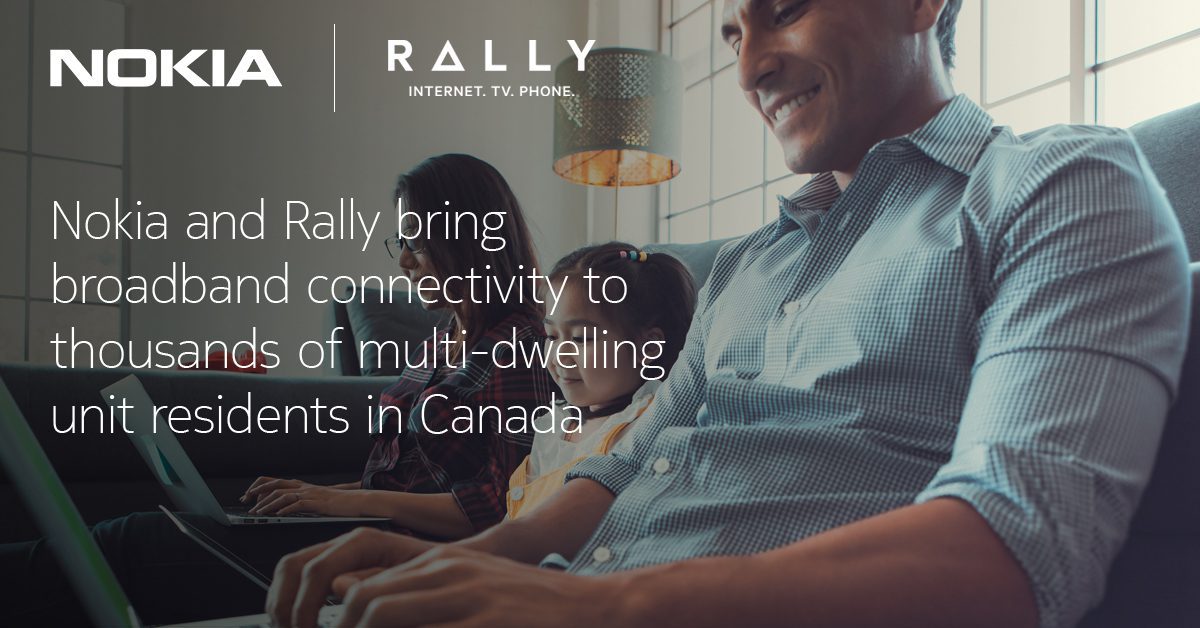 Nokia and Rally bring broadband connectivity to thousands of multi-dwelling unit residents in Canada
First deployment in North America of Nokia's Lightspan MF-2 fiber access node enables faster time-to-market for connectivity in residential areas
8 December 2021
Ottawa, Ontario – Nokia and Rally today announced the first deployment of Nokia's Lightspan MF-2 fiber access node in North America, expanding broadband access to multi-dwelling units (MDUs) across Toronto.
In the work-from-home age, increased access to internet connectivity is crucial as the home often now triples as an office, residence, and an entertainment center. The majority of Rally's customers live in condominiums and MDUs in the Greater Toronto Area, many clustered around the central business districts of Toronto, North York and Mississauga. Nokia's Lightspan MF-2 platform supports both 10G and 25G PON technologies, allowing Rally to deliver high-speed connectivity to each building on its existing fiber access network. Rally is also deploying Nokia's mesh Wi-Fi technology within its units to provide customers with reliable, secure, and future-proof services.
Rally will manage the network with the aid of Nokia's Altiplano Access Controller which enables network automation, faster innovation and simplified operations using Software Defined Access Network (SDAN) solutions. In addition, MF-2 platform leverages Nokia's in-house Quillion chipset technology that enables high performance, low latency, and low power consumption to support Rally's sustainability goals.
Nokia's technology is also certified for use in Rally's senior care and healthcare environments, ultimately providing connectivity for all of Rally's customers, which includes 150 hospitals across Canada in partnership with HealthHub Patient Engagement Solutions.
Paul G. Smith, CEO of Rally, said: "Rally is thrilled to partner with a global technology leader like Nokia in offering our customers and clients the latest in Wi-Fi technology, further demonstrating our ability to service the Canadian market, and in our shared commitment to connectivity services, products and solutions that enable a more inclusive and sustainable world."
Shawn Sparling, VP Enterprise and Public Sector at Nokia said: "Nokia technology is helping Canadians continue to thrive when working from home is the norm. This partnership with Rally will make high-speed connectivity accessible to even more people in the digital era."
Resources
Webpage: Lightspan MF-2
Webpage: Altiplano Access Controller
Press release: Nokia enhances fiber access portfolio to accelerate 5G
---
About Nokia
At Nokia, we create technology that helps the world act together.
As a trusted partner for critical networks, we are committed to innovation and technology leadership across mobile, fixed and cloud networks. We create value with intellectual property and long-term research, led by the award-winning Nokia Bell Labs.
Adhering to the highest standards of integrity and security, we help build the capabilities needed for a more productive, sustainable and inclusive world.
About Rally
Based in Toronto, Rally brings people together by offering fair, reliable and affordable Internet, TV, and home phone options to Canadians. As a national network provider with 20 years' experience in 10 provinces, Rally is rapidly expanding its integrated technologies for residential, healthcare and senior care customers which are based on the company's independent, fibre-optic network.
Media Inquiries:
Nokia
Communications
Phone: +358 10 448 4900
Email: press.services@nokia.com
Rally Enterprises & Communications Corp.
www.rally.ca
Phone: 416.360.3000
Email: marketing@rally.ca