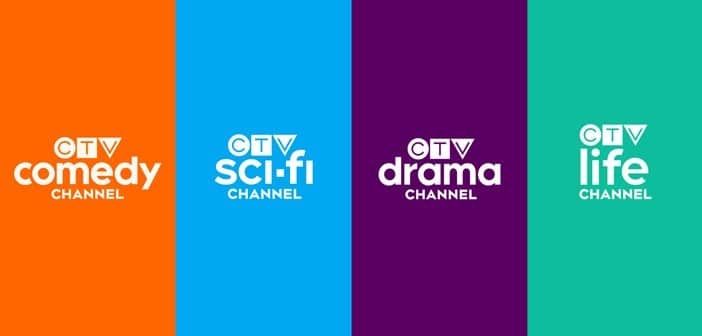 Described as  "the next evolution" of The Comedy Network, Space, Bravo, and Gusto, Bell Media has unveiled the rebranding of their specialty channels; CTV Comedy Channel, CTV Sci-Fi Channel, CTV Drama Channel, and CTV Life Channel.
"The four CTV Specialty channels are now a powerhouse suite of diverse entertainment options for CTV viewers," said Mike Cosentino, President, Content and Programming, Bell Media. "Under CTV's distinct brand umbrella, and with a slate of marquee series on the schedule, we know these channels are poised to flourish even further."
CTV Comedy Channel
CTV Comedy Channel's new slate of series boasts megawatt star power as Kevin Hart's hit sports interview series from Laugh Out Loud, COLD AS BALLS, joins the lineup. CTV Comedy's digital platforms will also feature a curated slate of Laugh Out Loud's award-winning content later this year. Adding to this A-List slate is the revival of MAD ABOUT YOU, with Paul Reiserand Helen Hunt reprising their roles in the award-winning, fan favourite two decades after the original series wrapped. TACOMA FD, which debuted as the #1 new cable comedy series in the U.S., also lands on CTV Comedy Channel this fall, joining an already prestigious schedule that includes water-cooler series THE DAILY SHOW WITH TREVOR NOAH and FULL FRONTAL WITH SAMANTHA BEE, whose comedic punditry is sure to bring the heat to the upcoming powder keg 2020 American election.
CTV Sci-Fi Channel
Still the go-to destination for all things genre, CTV Sci-Fi acquires sure-to-be fan-favourite series RESIDENT ALIEN, based on the comic book series of the same name and led by genre star, Alan Tudyk (DOOM PATROL, Rogue One). The series joins the previously announced- and highly anticipated – acquisition, STAR TREK: PICARD, starring Sir Patrick Stewart, as well as mega-hit STAR TREK: DISCOVERY, and critically-acclaimed anthology series, CASTLE ROCK.
CTV Drama Channel
Joining a lineup fuelled by some of pop culture's biggest female-led series, including KILLING EVE and THE HANDMAID'S TALE (Season 3 premieres this Sunday, June 9 at 9 p.m. ET), CTV Drama lands TV's next obsessive thriller, GOLD DIGGER, featuring Emmy Award®-winner Julia Ormondalong with Ben Barnes, whose steamy affair sparks big family drama. As well,THE Truth About the Harry Quebert Affair, a provocative mystery crime drama starring Patrick Dempseyand based on the award-winning and best-selling book of the same name, also joins the buzzy and stylish CTV Drama fall lineup.
CTV Life Channel
Jamie Oliver kick starts the refreshed CTV Life Channel with new series JAMIE'S ULTIMATE VEG, bolstering a slate that includes fan favourites JAMIE AND JIMMY'S FOOD FIGHT CLUB, ESCAPE TO THE COUNTRY, MARTHA AND SNOOP'S POTLUCK DINNER PARTY, and home-cooked series BONACINI'S ITALY and WHERE TO I DO. 
Call us to add these channels to your Rally TV, or see our complete channel lineup.
Rally TV. Your entertainment, your way.